Adelaide council's grants innovation
Posted on 08 Oct 2019
By Matthew Schulz, journalist, Our Community
The City of Onkaparinga on Adelaide's southern fringe takes its name from an indigenous word for "women's river", the waterway that runs through an area that spans urban and rural areas, great beaches and picturesque vineyards.
As every local government grantmaker knows, councils have their work cut out trying to make the most of natural advantages such as these, while also tackling every type of social disadvantage.
Catering for 170,000 residents, Adelaide's biggest metro council runs a grants program to match its size: 30 grants programs distributing $1 million a year.
Dale Sutton leads the councils grants and engagement team, and at the recent Grantmaking in Australia conference, he revealed how Onkaparinga is using new methods to boost community engagement and grants impact. Those methods include:
a "shark tank" style pitch event in which community organisations seeking support vote for each other; and
an expressions of interest process to attract unexpected ideas on how the council should spend its money.
Until recently, Mr Sutton said, Onkaparinga followed a pattern of grants management familiar to the hundreds of municipalities across Australia.
"Many of us in the grantmaking space create grant programs to achieve strategic outcomes. Whether that is to create new jobs, to stimulate the local economy, or for social outcomes like trying to reduce social isolation, we all create grants with a specific outcome in mind."
The familiar process goes like this: "We write our guidelines and application forms and design the assessment criteria to ensure the projects that will deliver the best outcomes get funded. Then we advertise or promote the grant opportunity and sit on our hands and wait."
Whether a funder is overwhelmed or underwhelmed by those applications, the question remains: "Did we get applications for projects and programs that we really want to see delivered? Do they match the strategic outcomes that we are trying to achieve?"
Like many organisations, Onkaparinga had "fallen into the same trap of creating grant programs and just crossing our fingers that they will deliver the outcomes we designed them for." As Mr Sutton put it: "This has had mixed success."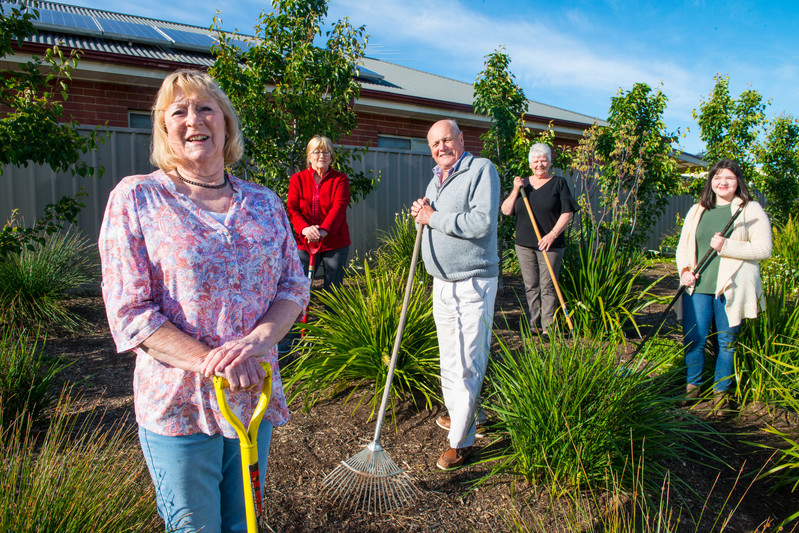 Pitch Fork Project wins friends, influences people
It was unexpected funds in 2016 that pushed Onkaparinga to trial its pitch-style grants.
A $3000 award for excellence in public health - a state government honour - was cause for celebration, but also a bit of a headache.
"What were we going to do with it? We hadn't budgeted for this money, it didn't belong to any program or team, and we didn't have the resourcing to do anything with it ourselves."
Onkaparinga's community relations director, Philomena Taylor, came up with a solution based on a UK grants concept that tied nicely back into public health by addressing the issue of food security and nutrition in the district.
The Pitch Fork Project was born with a remit to:
give back to the community
encourage community driven solutions to a regional issue
encourage innovation and creativity in communities
trial a participatory decision-making approach.
The application process was simple, requiring 300 words.

The council shortlisted 10 groups, then gave each group five minutes to pitch its project at a special event - to the other groups.
After PowerPoints presentations, passionate speeches and a pitch delivered in song, the groups secretly voted one organisation worthy of winning the $3000
The Better Together Christies Downs group convinced others they were the best placed to spend the $3000 to share "rescued" food, recipe books and kitchenware, alert people to seasonal produce and teach them about safe food handling.
The concept was roundly applauded, and with the following year the council awarded $15,000 of unspent grants funds using the same method.
The council plans to keep the project ticking over with a different theme each year, based on community consultation, and an annual budget that's bolstered by undersubscribed grant funds.
Not sure how to spend your money? Ask.
Once again, it was surplus funds (about $90,000) that prompted another grants innovation at Onkaparinga: the council's Coastal Activations Expressions of Interest.
And again, the council sought community help to determine how funding should be spent to "activate" coastal areas in summer.
There were no constraints, no parameters, no limits on how much applicants could ask for. They were just asked to complete a basic expression of interest form.
"We wanted to see what ideas our community would come up with, and then we would work with each organisation to determine how we could support them," Mr Sutton said.
While the council had expected that ideas might include fee waivers, cash assistance, or help with power and water to coastal locations that were lacking it, the suggestions that came in were as diverse as the community itself.
There were 22 applications seeking help with busking, art exhibitions, yoga classes, markets, outdoor cinemas, and food and wine celebrations. The requests with the lowest value were for basic permits, such as busking permits. The biggest pitch was for $60,000 (that group was redirected to the council's event sponsorship program).
The result is a range of activities along the coast that has the community buzzing, businesses confident, and councillors happy that the events have come at only a small cost.
How you can activate your grants
Mr Sutton says Onkaparinga's experience contains lessons for all grantmakers.
"Don't just design a grant program, advertise it … and wait, hoping for great applications to roll in. Traditional grant programs (are) a one-way dialogue where we are telling our communities what we want to hear."
What Onkaparinga has been able to do is to tap into the energy of its communities and their passions.
The experience has taught Mr Sutton and his team that "if you listen to your community and ask them how to solve local issues, they will come up with some great ideas."